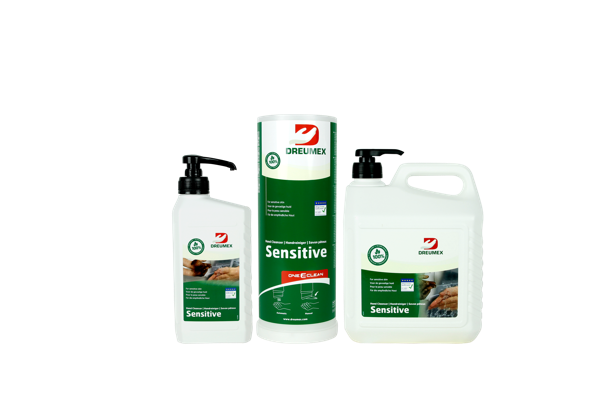 Dreumex Sensitive
For damaged and sensitive skin
Contains allergen-free ingredients
Dermatologically tested and approved
Contains the ECARF certificate (allergy friendly product)
Dreumex Sensitive is a hand cleansing paste with allergenfree ingredients that's particularly suitable for a sensitive skin. The hand cleanser is free from perfume, colourants, solvents and preservatives. The inclusion of the naturally occurring substance, potassium lactate, leaves skin feeling supple and gently conditioned.The addition of microbeads enables Dreumex Sensitive to cleanse hands thoroughly, without damaging the skin. The powerful hand cleanser is suitable for medium to heavy industrial contaminants such as lubricants, diesel, brake fluid, cement and rust.
More than 75 million people in Europe suffer from sensitive skin and are thus likely to develop a skin infection such as (hand) eczema. Allergic eczema accounts for 85% of all occupational skin complaints. And 30% of workers within automotive industry suffer from hand eczema. Dreumex Sensitive therefore contains exclusively allergen-free in ingredients and is free from precipitating factors, such as preservatives, solvents, colourants and perfume.

Apply to dry hands and rub in vigorously until dirt is loosened. Rinse hands and dry thoroughly. Keep package well closed and stored under cool conditions.

| | |
| --- | --- |
| Brake fluid | X |
| Cement | X |
| Lacquer | X |
| Lubricants | X |
| Oil | X |
| Resin | X |
Appearance

Paste

Micrograins

Silica

Solvent-free

Yes

Skincaring

potassium lactate

pH value

8

Scent

odourless

Fragrance-free

Yes

Colour-free

Yes

Silicone-free

Yes

Dosage

5ml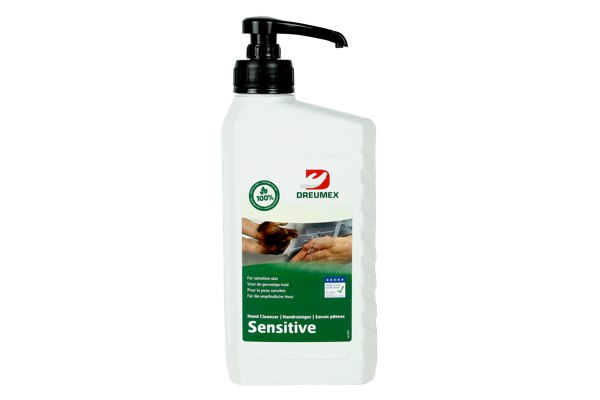 Bottle with pump
| | |
| --- | --- |
| Product Content | 1L |
| Bar code packing | 8712602005506 |
| Packaging Content | 6 |
| Bar code (box) | 8712602005513 |
| Dimensions box (L x W x H) | 334 x 130 x 256 mm |
| Article number | 24210001001 |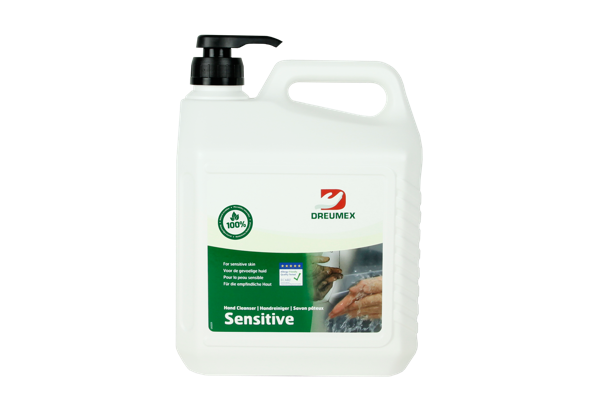 Can with pump
| | |
| --- | --- |
| Product Content | 3L |
| Bar code packing | 8712602005483 |
| Packaging Content | 4 |
| Bar code (box) | 8712602005490 |
| Dimensions box (L x W x H) | 270 x 380 x 285 mm |
| Article number | 24230001002 |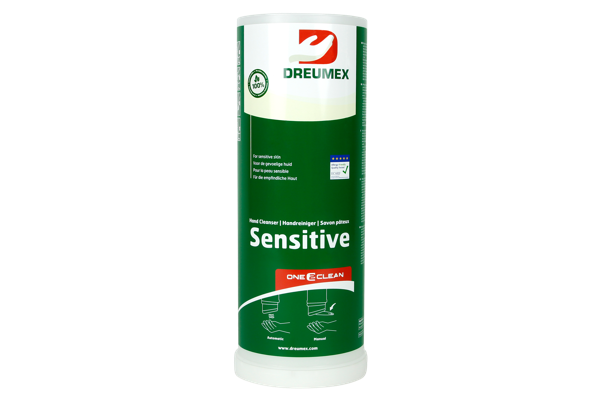 One2clean cartridge
| | |
| --- | --- |
| Product Content | 3L |
| Bar code packing | 8712602005520 |
| Packaging Content | 4 |
| Bar code (box) | 8712602005537 |
| Dimensions box (L x W x H) | 260 x 260 x 340 mm |
| Article number | 24230001001 |