Dreumex Cleaning Packages for the Holiday Season
As December festivities draw near, you have likely crossed many names off your holiday gift list. You purchased gifts for family and friends and baked cookies for your colleagues and neighbors. As you finish up your shopping, consider making one extra purchase this holiday season by investing in an upgrade of your facility's cleaning products. Dreumex offers disinfectant solution packages that are both aesthetically pleasing and completely effective for a variety of surface cleaning challenges.
Monk® wipe package
The Monk® Starter Kit is the ideal product for any situation where dispensing of disinfectant wipes is highly important. It comes in two versions: a floor stand dispenser and tabletop dispenser.
The Monk® Stainless Steel Stand 800ct Starter Kit includes an 800 count bucket and attractive stainless steel stand. Disinfecting wipes are dispensed through the top of the stand and discarded in the waste receptacle below. The practical design requires a minimal amount of floor space, and the two-in-one dispersal and disposal system simplifies the cleaning process.
The Stainless Steel Tabletop 800ct Starter Kit is designed with professional environments in mind. This polished dispenser is ideal for saving valuable floor space while still accommodating areas of high use and frequent touchpoints. The package includes an 800-count refill and stainless steel tabletop dispenser. Place the dispenser on any shelf or table for easy accessibility that is conducive to exceptional cleaning and disinfecting procedures while keeping an attractive appearance.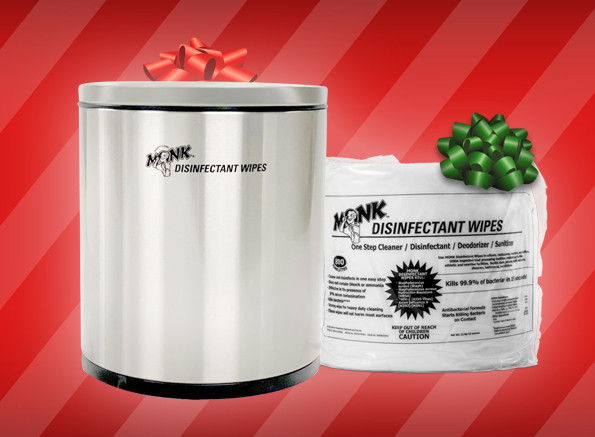 Monk® wipes efficacy
The Monk® Starter Kit packages are convenient, but their greatest value is their cleaning efficacy. Monk® Disinfectant Wipes provide a one-step disinfectant and deodorizing process that is effective against a broad spectrum of bacteria. They are strong enough for heavy duty cleaning while remaining free of bleach and ammonia. The wipes are effective against a number of bacteria and viruses, including the COVID-19 virus, Staph, E. coli, HIV-1, MRSA, cold and flu viruses, and more.
Monk® wipes are the ideal disinfectant solution for athletic and health facilities, nursing homes, clinics, veterinary clinics, animal kennels, beauty salons, schools, grocery stores, offices, and other environments. Whether you choose the floor stand or tabletop wipe dispenser, you will have access to disinfectant wipes that thoroughly destroy harmful germs and support the health of employees and visitors.
Choose the right package
Start the new year off with the most effective cleaning products in your facilities. Contact us to discuss which package is the best fit for your needs.