Dreumex – Expanding its reach in the industry
Dreumex USA's tagline, "We care about your hands", no longer defines the Power Wipes® brand. Over the last year, the Dreumex USA development team has worked to expand its Dreumex Power Wipes® brand to include disinfecting wipes – introducing a food contact surface disinfecting wipe and fast acting disinfecting wipe. These new products will be showcased at the upcoming ISSA North America show in Dallas, TX – booth #2932
Dreumex Food Contact Surface Disinfecting Wipes
Dreumex Food Contact Surface Disinfecting Wipes kill Norovirus, E. Coli O157: H7 and Shigella dysenteriae, along with other foodborne pathogens and viruses (10 pathogens, 3 viruses total). These 3 viruses have been in the news over the last 2 years, related to Chipotle, McDonalds, the 2018 Winter Olympics, and the romaine lettuce outbreak across 36 states in the USA.
"With so much media coverage about cross contamination in the food industry, we knew it made sense to develop a product that will kill foodborne pathogens and viruses on surfaces," states Ashley Werner, Marketing Manager of Dreumex USA. She continues, "There are products out there that sanitize surfaces but they can't guarantee to kill the most popular pathogens and viruses. We also wanted to continue providing efficiency and ease of use to those using the product. A wipe made sense, and what is even better than that? A no rinse wipe."
Use Dreumex Food Contact Surface Disinfecting Wipes to disinfect dining tables and bars, electronics, touch POS systems, restaurant gaming & instant payment consoles, video poker machines and other high-contact surfaces. Our no rinse formula allows a worker to wipe a surface and let air dry, unlike other disinfectants that require you to rinse the surface before use. By encouraging food establishments to use Dreumex Food Contact Surface Disinfecting Wipes, you provide an easy way to implement disinfection into workers' daily routines while providing a safer environment for all.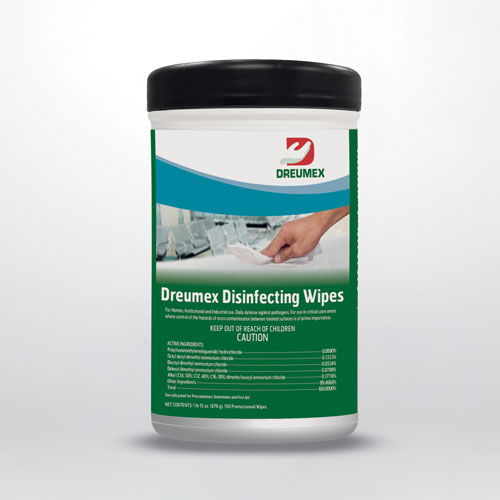 Dreumex Disinfecting Wipes
Dreumex USA is expanding its reach into the healthcare and long-term care facilities industry with Dreumex Disinfecting Wipes. Formulated for homes, institutional and industrial use, our Dreumex Disinfecting Wipes are convenient, premoistened wipes designed for everyday disinfecting. They help reduce cross contamination on treated surfaces, killing 46 pathogens and viruses total – including Norovirus, Influenza A (H3N2), Hepatitis B & C, Staph and MRSA.

Use Dreumex Disinfecting Wipes on hard, nonporous surfaces in hospitals, anesthesia rooms, CAT labs, ICU areas, doctor's offices, hotels, public facilities, gyms and schools. It also can pre-clean medical devices prior to sterilization.
Day care centers rely on Dreumex Disinfecting Wipes to eliminate kitchen, bathroom and household bacteria. Use Dreumex Disinfecting Wipes on washable hard, nonporous surfaces of: diaper changing tables, highchairs, diaper pails, garbage cans, sinks, cabinet handles, chairs, bathroom fixtures and much more. It is formulated for use in daily maintenance programs with balance of detergent and malodor counteractants that deliver effective cleaning, disinfecting and malodor control. Makes cleaning and disinfecting easier – no sprays, no sponges, no mess.
The Dreumex Power Wipes® brand now includes Hand & Tool Wipes, Ultra Hand & Tool Scrubber Wipes,Food Contact Surface Disinfecting Wipes and Disinfecting Wipes.